- Restaurant cruise
Restaurant cruise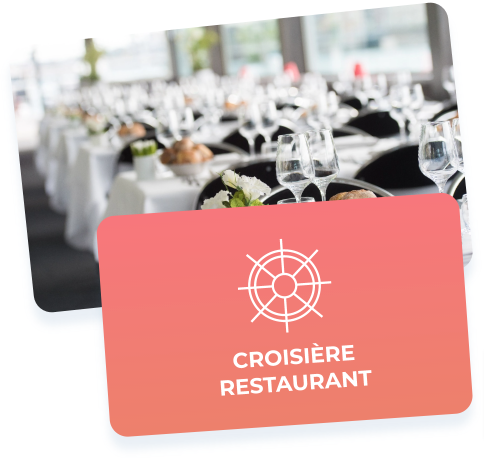 Combine culture and gastronomy and discover Lyon on board our restaurant cruises: the Hermès and the Hermès II. Change your traditional restaurant outing and come aboard for a magical experience.

The Chef and his brigade concoct a generous, refined and fresh cuisine prepared on board the boats! Seasonal and regional products prepared with care offer you an explosion of flavours. It is in the heart of Lyon, the capital of French gastronomy, that you will live an experience rich in emotions.

Take a break from everyday life and climb aboard our restaurant boats. Indulge in a gourmet meal and explore Lyon's majestic landscapes while listening to commentary. Choose from a 2 hour 30 minute or 5 hour 30 minute lunch or dinner cruise.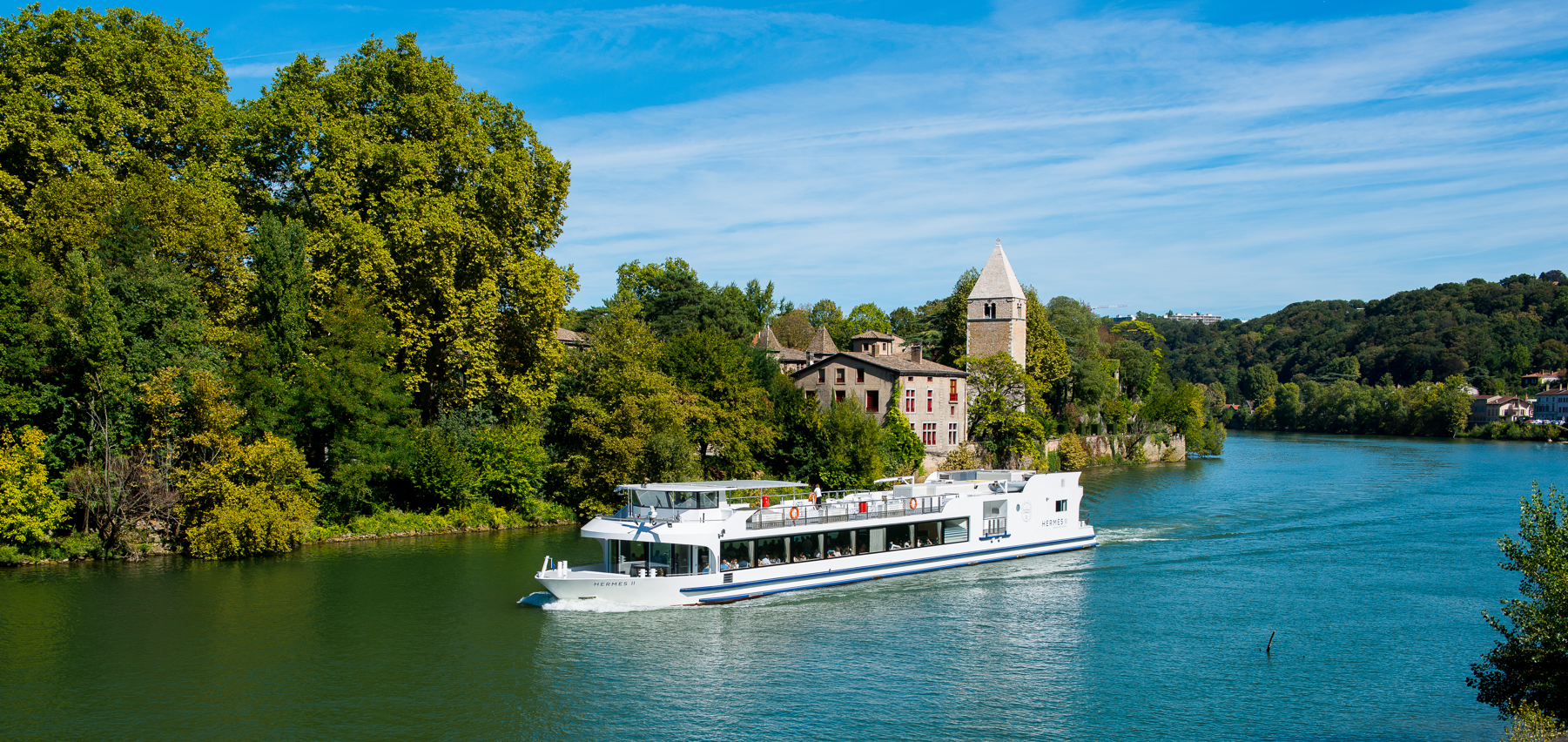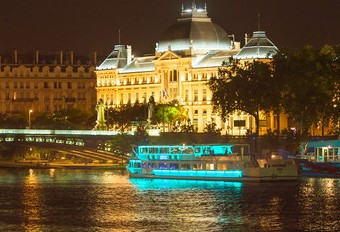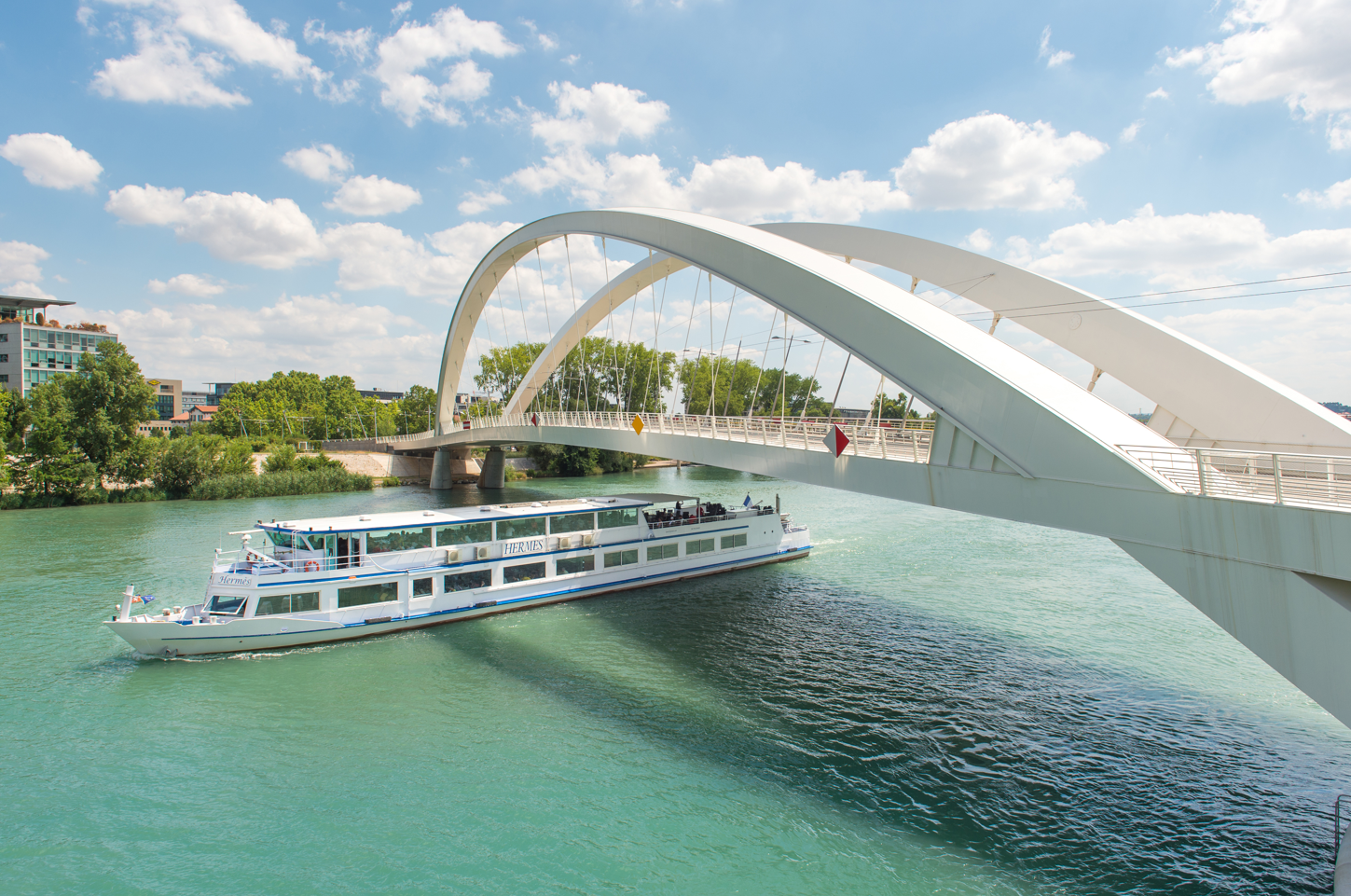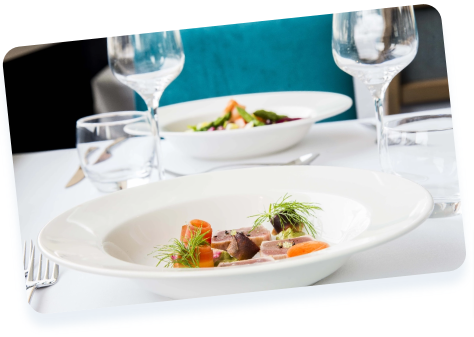 A gourmet cruise along the river
Take a break from your daily routine and come aboard our Hermes and Hermes II restaurant boats. Indulge in quality gastronomy and explore the majestic landscapes of Lyon thanks to the commentary broadcast on board.
Lunch or dinner formula, 2h30 or 5h30 cruises, to each his desires, to each his cruise, it's up to you!
Summer Menu 2023 - available until October 2023


Raw cooked beef tenderloin tataki, sweet and sour vegetable pickles
or
Fresh Ceviche, aromatic herb salad and baby greens, citrus peel vinaigrette
or
Melon gazpacho with Savoy cured ham, "cervelle des canuts" and golden French croutons
or
Beefsteak tomato tartar, basil pearl, toasted wholewheat bread (Vegetarian)
Sea bream Fillet cooked on its skin, spinach ricotta ravioli, watercress cream
or
Half-cooked plancha-grilled tuna steak, mashed potatoes with candied peppers and olives, pan-fried baby vegetables
(Additional Fee 8€)
or
Farmers Market Poultry Ballotine, roasted and stuffed with tartufata sauce, pesto verde potato mousseline
or
Veal Tournedos sauted in a pan, fried polenta sticks, vegetables tian from the provence region and its juice
or
Creamy coconut milk risotto, artichoke hearts fricassee, aromatic herb oil (Vegetarian)
Trio of regional cheeses, nuts and mesclun salad (Extra charge of 8€)
or
Cottage cheese, plain, cream or fruit coulis
(Additional fee 5€)
Local strawberries Minestrone with fresh mint
or
Delicate dark chocolate "extra bitter" tart, light raspberry cream
or
Iced nougat with honey and pink pralines, red fruit coulis
Dishes are subject to change according to supply constraints.
CHILDREN'S MENU (3 to 12 years) :
Puff pastry hot dog, mixed salad
or
Tomatoes tarte tatin, mixed salad
Chicken breast, mashed potatoes
or
Sea bream fillet, polenta
Pancake with sugar and whipped cream
or
Chocolate fondant and whipped cream
1 soda or fruit juice to choose from the menu on board
Dishes are subject to change according to supply constraints.
Find out about all our options when you book
Drinks package "Bellecour"
1 house cocktail with or without alcohol
+ 1 glass of wine
+ Water
+ 1 coffee or tea
14€/person
Drinks package "Sathonay"
1 house cocktail with or without alcohol
+ 2 glasses of wine
+ Water
+ 1 coffee or tea
18€/person
Drinks package "Jacobins"
1 glass of Champagne
+ 2 glasses of wine
+ Water
+ 1 coffee or tea
24€/person
Birthday
Want to celebrate a birthday in an original way?
After choosing your menu, choose the "Birthday" option to enjoy on board :
A glass of champagne served with dessert
A candle
12€/person
Romantic pack
Fancy a romantic tête-à-tête?
We offer you an option including 2 glasses of champagne + a rose, for a wonderful moment to share.
25€/couple
Guaranteed window location
To enjoy the best view of the city of Lyon, choose the window spot!
20€/booking
Discover also our sightseeing cruises