Our boats
Created in 1984, Les Bateaux Lyonnais has become a reference in its field, by offering a new approach to the discovery of Lyon.
For a guided tour, a meal cruise or a private event, the company offers tourists and Lyonnais residents the opportunity to enjoy a new urban experience.
Are you a private individual or professional? Dare to try something new by privatising all or part of one of our 6 boats and let yourself be transported into a unique atmosphere.
In all seasons, combine a change of scenery, culture and heritage!
An anecdote?
Originally from Lyon, the "Bateaux-Mouches®" were exported to Paris in 1867 for the Universal Exhibition. Built by the Lyon shipyards located in the "La Mouche" district in Gerland, these boats returned to the capital by sailing on the Saône and the inland canals.
Hermes restaurant boat
The Hermès restaurant boat invites its passengers to escape for an unusual and gourmet meal. To discover Lyon along the rivers and unravel its mysteries, lively commentaries are broadcast throughout the cruise. The traditional cuisine, concocted on board from fresh produce, delights the taste buds of passengers who enjoy an exceptional panorama.
The chef and his brigade have developed a varied menu to satisfy all gourmets. The Bateaux Lyonnais offer two lunch formulas (lasting 2h30 and 5h30) as well as a dinner formula (2h30) to admire the city under the lights. A gourmet, cultural and very original meal !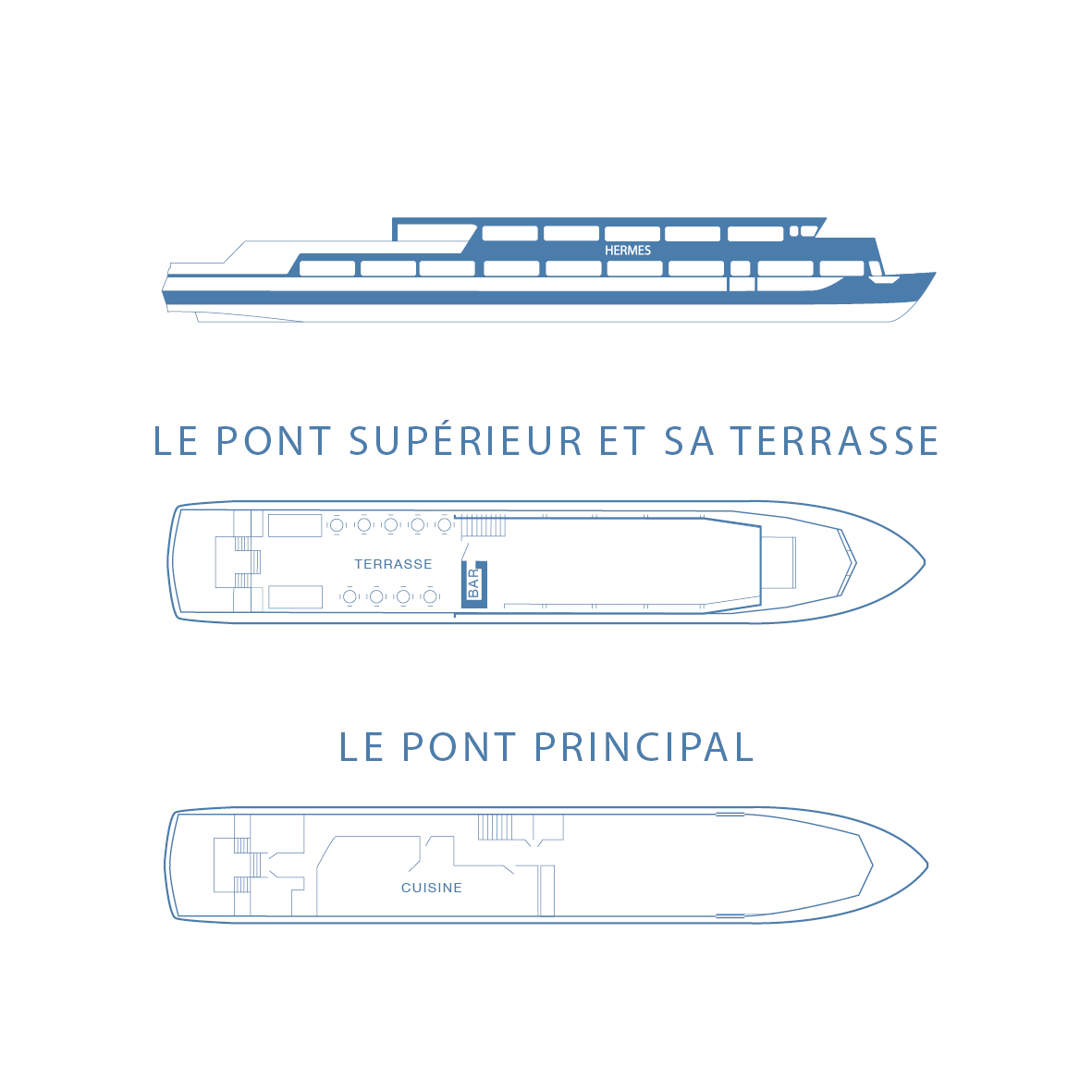 The Hermes in detail
Setup / Maximum capacities
Meeting - Seminar in theatre / 170 people
Meeting - Seminar in school / 60 people
Seated meal / 280 people
Cocktail party / 280 people
Walk - Transfer / 280 people
Reception areas / sqm
Upper deck / 91. 80 sqm
Main deck / 130 sqm
Dance floor / 45,50 sqm
Terrace / 88 sqm
Hermes II restaurant boat
Hermès II, our restaurant boat, provides a relaxing environment in which you can discover or rediscover the multiple facets of Lyon. Designed by a young architect from Lyon, the boat has high ceilings and large windows to ensure maximum light and superb views of the city.
So come and take advantage of this unique cruising experience and enjoy a sophisticated meal prepared on board by our young head chef. We offer a variety of routes and options to meet your needs. The chef and his team will serve you a menu of traditional flavours with gourmet accents to delight your taste buds.
The boat is ideal for private or business lunches and dinners, but can also be hired for events: seminars, conferences, birthdays and even weddings.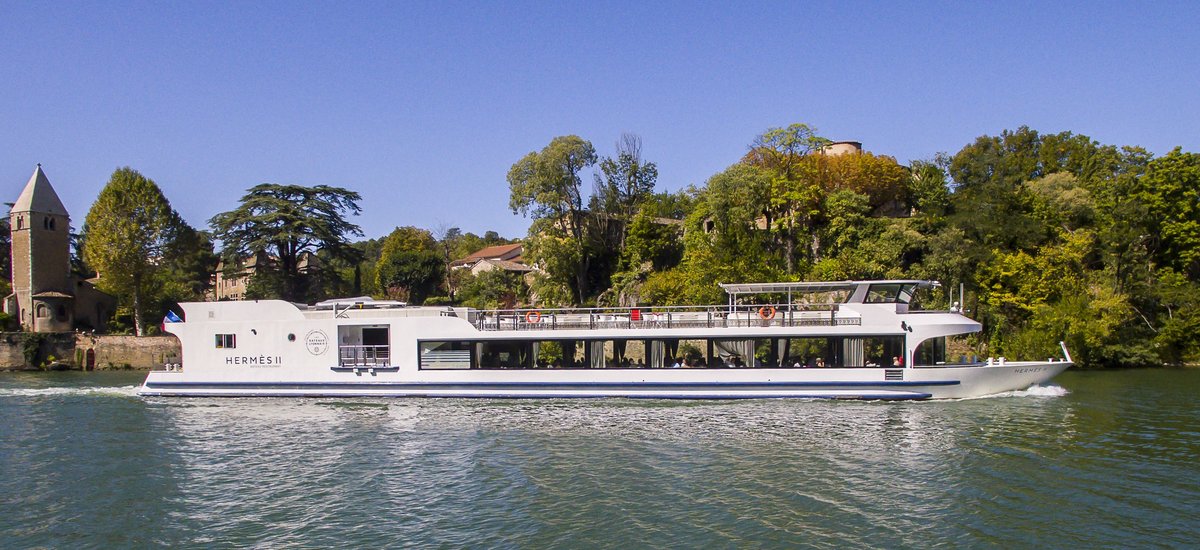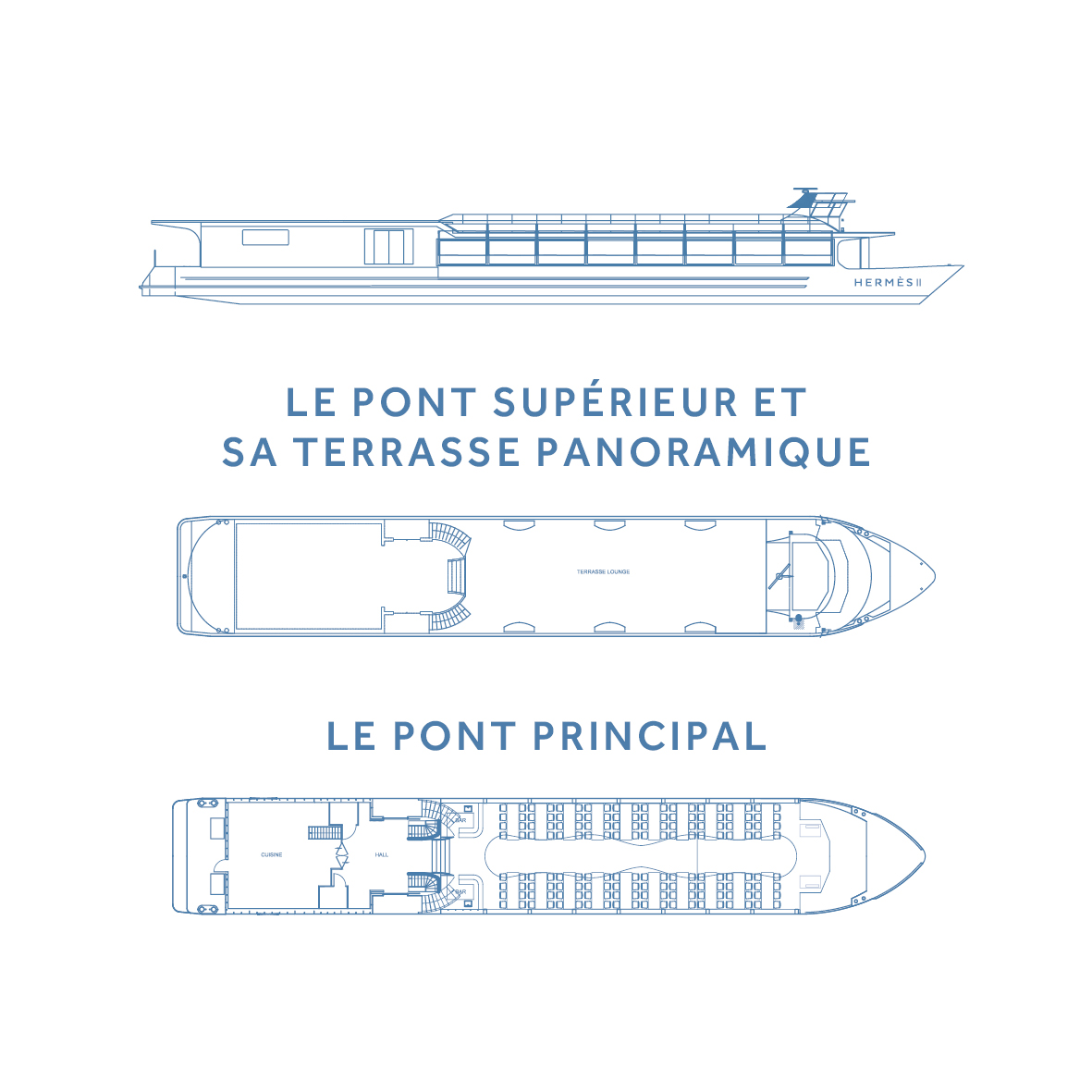 The Hermes II in detail
Setup / Maximum capacities
Meeting - seminar in theatre / 110 people
Seated meal / 160 people
Cocktail party / 180 people
Walk - Transfer / 180 people
Reception areas / sqm
Upper deck - Terrace / 152 sqm
Main deck / 170 sqm
Dance floor / 46,70 sqm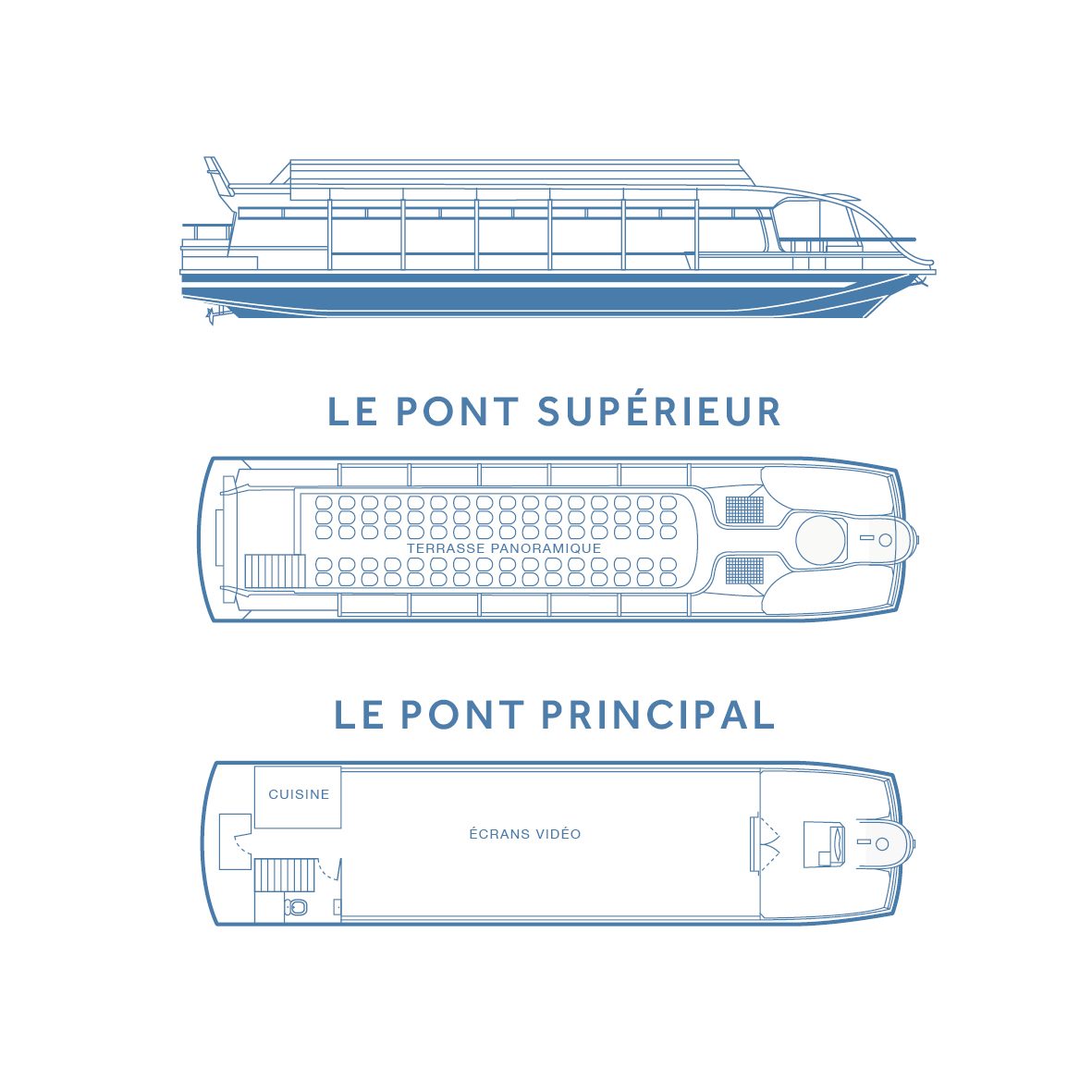 Navilys in detail
Setup/ Maximum capacities
Meeting - Seminar in the theatre / 70 people maximum
Cocktail party / 100 people maximum
Walk, transfer / 150 people maximum
Reception areas / sqm
Main deck / 62 sqm
Panoramic terrace / 30 sqm
Rear terrace / 8.50sqm
Galley / 5.70 sqm
Equipment available
Dining table, folding chairs, kitchen, heating and air-conditioning, 220V power supply, 4 video screens (19"), video projector, white screen, paper board, wired microphone, general sound system)
Vedettes ELLE & LUI
Hoist the sails! Here, "Elle" is for the Saône river and "Lui" is for the Rhône river. Treat yourself to an urban getaway by climbing aboard the two river boats and experience an exhilarating moment! The Les Bateaux Lyonnais team will provide you with a customised cruise combining originality, relaxation, authenticity and charm!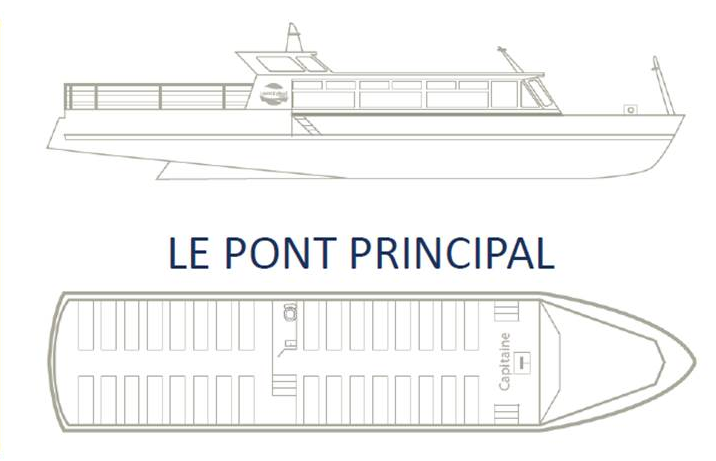 Vedettes in detail
Setup/ maximum capacities
walk, transfer / 100 people
Reception areas / m2
Indoor lounge / 27,40 sqm
Terrace / 6,40 sqm
Equipment available
Heated indoor lounge, covered terrace, sound system, wired microphone, 24V power supply.
Saint-Exupery boat
Built in 2018 in the Netherlands, and now moored at 13bis quai Rambaud, this new boat dedicated to events promises a unique and 100% tailor-made experience.
Its large bay windows offer not only a bright space but also an incomparable view of the city of Lyon, enough to complement its clean lines and modern design. With its 36 meters long and 7.5 meters wide, this boat will be able to accommodate up to 80 people seated and 120 people for cocktails, in the dining room or on its large terrace, with a 360° view, whatever the occasion to celebrate.
In terms of gastronomy, the teams on board will have something to delight their pupils and taste buds thanks to its equipped kitchen and its bar area which adorns the main deck.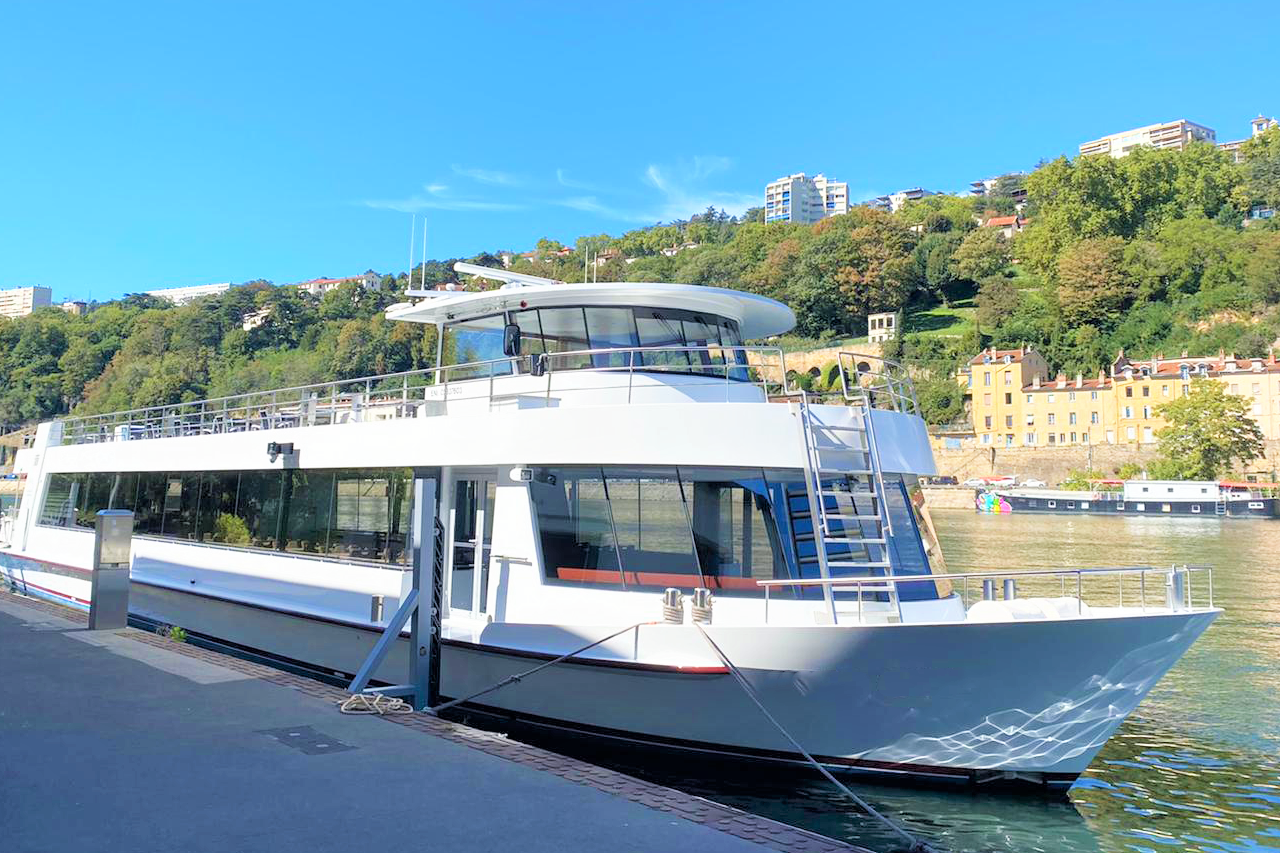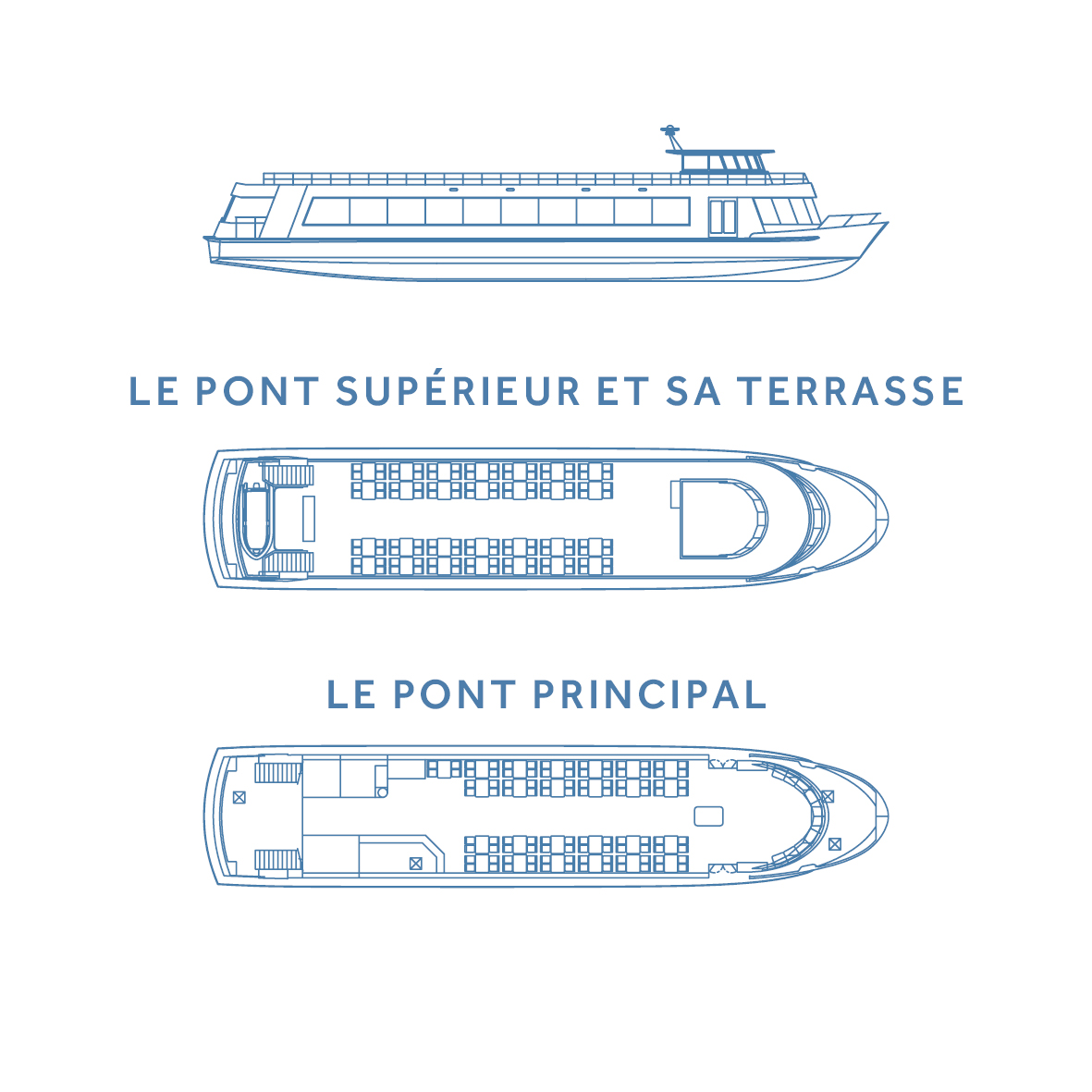 Saint Exupery in detail
Setup/ Maximum capacities
Meeting - Seminar in the theatre / 80 people maximum
U shape meeting + cocktail / 30 people maximum
Seated meal / 80 people
Cocktail party / 120 people maximum
Reception areas / sqm
Main deck / 92 sqm
Panoramic terrace / sqm
Rear terrace / sqm
Galley / sqm
Equipment available:
Dining table, chairs, kitchen, heating and air-conditioning, 220V power supply, video projector, white screen, paper board, wireless microphone, general sound system)